Interactively learn about robotics, rocketry, aerospace and satellite engineering, and climate science. Participate in numerous hands on robotics and engineering tasks such as building a robotic rover, building a model rocket and launching a weather station attached to a rocket.  Build a remote sensing weather station, launch them on weather balloons and conduct data analytics. Learn from astronauts and STEM professionals about all the opportunities STEM fields have to offer.
Story on UNC Asheville's Space Camp from WLOS


June 19-24, 2022
$1,600
Needs-Based Financial Aid can be applied for through Destination SPACE (email info@destinationspace-stem.org for more information)
Price includes lodging, meals, all course materials, activities, and excursions
Students reside in campus residence halls and dine in campus dining hall
Due to the continued effects of COVID-19, we are maintaining a flexible refund policy.  There is a full refund available minus a $50 administrative processing fee
Enrollment is open until spaces are filled
Students that register for two back-to-back Pre-College programs, have the option to also register for an optional stayover weekend in-between programs for an additional $350.  The stayover weekend is all-inclusive of housing, meals and activities in and around Asheville
---

Interactively learn about robotics, rocketry, climate and aerospace and satellite engineering.
Gain understanding about data analytics and applications
Learn about climate change and its impacts to society

Experience residential campus life in a fun, engaging setting with challenging STEM curriculum.

Interact with NASA and NOAA scientists and engineers.

Morning

8 a.m. – Breakfast
9 a.m. – Introduction to remote sensing and applications
10 a.m. – Learn and use soldering techniques to build a robotic rover
11 a.m. – Construction and programming of robotic rovers
12:00 p.m. – Lunch & free time

Afternoon

1 p.m. – Construction and programming of robotic rovers (continued)
3 p.m. – Robotic Rover Race
4 p.m. – Introduction to weather stations, temperature sensors, redundancy and basic principles

Evening

5 p.m. – Dinner
6:30 p.m. – Activities / recreation / free time
Options include: swimming, beach volleyball, Asheville Tourists game, observatory, game night, movie
11 p.m. – Lights out

Build a robotic rover and program it to perform a series of maneuvers
Learn how to solder and build your own weather station
Working in teams, you'll construct model rockets and launch a weather station
Conduct numerous hands-on robotics and engineering engineering tasks.
Collect in-situ and atmospheric data with your weather station.  Analyze data collected and present results to NASA and NOAA scientists and engineers.
---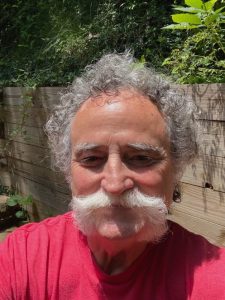 Dr. L. ​DeWayne Cecil founded Destination SPACE in March​ 2017 with a vision of providing students with space related interactive science education (https://destinationspace-stem.org).  As the Director of Destination SPACE, Inc., Dr. Cecil draws upon his extensive background in applied earth sciences and remote sensing. After earning a PhD. in Earth Science from the University of Waterloo, Ontario, Canada, Dr. Cecil went on to serve as Chief Scientist of the Applied Sciences Program at NASA Headquarters and as Senior Science Advisor at NASA Langley's Systems Engineering Office, the Lead Applications Scientist at the USGS 's Global Change Research Program, and the first-ever Western Region Climate Services Director at NOAA's National Centers for Environmental Information (NCEI). Dr. Cecil has over 80 professional science publications including journal articles and book chapters.
In addition to his work in climate research, aerospace applications, and program management, Dr. Cecil has worked extensively around the world. His travels have taken him to Japan, Nepal, China, Argentina, Brazil, Kazakhstan, New Zealand, Russia, and beyond. He has climbed and worked in the Tien Shan and Himalayan mountains in Central Asia and the Southern Alps in New Zealand, traversed glaciers, and searched the world's oceans. Dr. Cecil's breadth and depth of experience in research and in applied sciences has inspired him to pass on his expertise and enthusiasm to the next generation of scientists, engineers, and program managers.botics team

Lauren Ballard
Lauren graduated from Auburn University's School of Forestry and Wildlife Sciences in August of 2021 with a Bachelor's degree in Geospatial and Environmental Informatics. She graduated with highest honors in the inaugural class at the Martin L. Nesbitt Jr. Discovery Academy in 2018. She attended Satellite Week 2017 and was a mentor at Satellite Week in 2018, 2019, 2020, and 2021. She was a ThinSat Program participant and attended the Ground Systems Architectures Workshop in 2018 and 2019. She helped with project management on Team Miles's CubeSat. Lauren is also mentor in the Deep Space STEM program. She works mainly on data analytics, remote sensing, GIS, and GPS systems. She works as a Conservation Specialist at Ducks Unlimited, Inc. She works as the Data Analytics lead for Project Midnight Ghost, which is a search for history's most important missing airplane, "The White Bird", where two French pilots went missing on a transatlantic flight from Paris, France to New York, New York, in May of 1927

Austin Gleydura
Austin Gleydura is a junior at Embry-Riddle Aeronautical University studying Engineering Physics. He graduated from Martin L. Nesbitt Jr. Discovery Academy with highest honors and received his Associates in Science degree from Asheville-Buncombe Technical Community College. He attended Satellite Week 2017 and mentored and documented Satellite Week 2018 and 2019. He is interning with Team Miles Deep Space CubeSat helping with documentation, CAD design, structural analysis, and data interpretation. He is also project lead of the Space Systems, Policy, and Operations Club's high-altitude balloon team at Embry-Riddle that will perform weather research
Autumn Gleydura
Autumn is a senior at Martin L. Nesbitt Jr. Discovery Academy (NDA) and is duel enrolled at Asheville Buncombe Technical Community College. Autumn previously attended the 2018 and 2019 Satellite Week camps as a participant and is now an intern and mentor and robotics lead with Destination SPACE, as well as a member of the Deep Space STEAM Program at the NDA. Autumn is currently developing a programmable robotic rover and curriculum for Destination SPACE's Satellite Week camps and is also creating a full-scale model of the Miles Space 6U Deep-SPACE CubeSat. In addition to working with Destination SPACE, Autumn is the leader of the NDA's VEX Robotics team
---
Contact Us
Questions? Please contact us at camps@unca.edu.