How has social media changed journalism forever? What is truth? How does the public digest "news" and how are public opinions formed in this new digital age? Learn from field visits and case studies led by industry professionals at local media outlets and PR departments.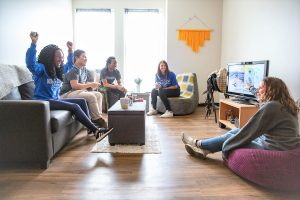 June 12-17, 2022
$1,200
Price includes lodging, meals, all course materials, activities, and excursions
Students reside in campus residence halls and dine in campus dining hall
Due to the continued effects of COVID-19, we are maintaining a flexible refund policy.  There is a full refund available minus a $50 administrative processing fee
Enrollment is open until spaces are filled
Students that register for two back-to-back Pre-College programs, have the option to also register for an optional stayover weekend in-between programs for an additional $350.  The stayover weekend is all-inclusive of housing, meals and activities in and around Asheville
---

What is news? Does the truth matter anymore?

"Fake news", how to identify it, and its implications in a free society

Freedom of the press and human rights around the world

What are the essential elements of public relations and how is it used today to influence public opinion?

The rise and fall of newspapers

Growth of social media 

What is social media's role in creating and disseminating the news?

How has social media changed everything?

Growth and prominence of social media influences

Crisis management in a 24/7 digital news cycle

How has social media changed the nature of communication? How has it impacted public opinion, the news and public relations?

Sports journalism and how immersive social media has changed the way fans follow sports

Morning

8 a.m. – Breakfast
9 a.m. – Social media today
12:00 p.m. – Lunch & free time

Afternoon

1 p.m. – Visit to Asheville Citizen-Times and WLOS – Ch. 13 – Asheville's local television station

Evening

5 p.m. – Dinner
6:30 p.m. – Activities / recreation / free time
Options include: swimming, beach volleyball, Asheville Tourists game, observatory, game night, movie
11 p.m. – Lights out

Several field visits are proposed, including immersive experiences with local media outlets such as WLOS or the Asheville Citizen Times

On-site meetings with public relations departments of local organizations such as the Biltmore Estate, the Asheville Conventions & Business Bureau and/or the Asheville Tourists
---

David Norman
David Norman is a Lecturer of Communication- Public Relations at the University of Tennessee at Chattanooga. Professor Norman brings more than 25 years of hands-on experience and expertise in the public relations field as the owner and managing director of a New York-based public relations and crisis management firm.  A nationally recognized expert in crisis communication, he has spoken and written extensively about the subject.  Prior to UTC, Norman was an Assistant Professor of Public Relations at the State University of New York at Fredonia, an Adjunct Professor at Hofstra University in New York and Lenoir-Rhyne University in North Carolina.  Professor Norman is a magna cum laude graduate of Hamilton College where he majored in Government. He also obtained a Master of Public Policy at The George Washington University.  Born and raised in Brooklyn, N.Y., Professor Norman is a loyal and long-suffering New York Mets fan. He currently lives in Asheville, N.C. with his wife Dana. Together, they have four grown children and a Labradoodle named Juno, who is by far their favorite child.
Contact Us
Questions? Please contact us at camps@unca.edu.