Explore and discover our natural, aquatic world. Engaging field-based learning will pair with outdoor skills and trips. Learn about Southern Appalachian stream ecology while canoeing sections of pristine rivers, hiking to wilderness swimming holes and investigating local aquatic species, and be challenged to think critically about human impact on the environment while rafting exciting whitewater.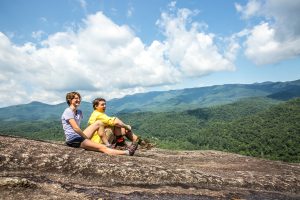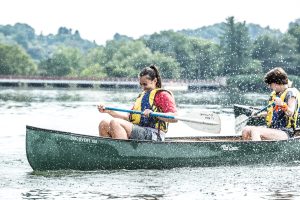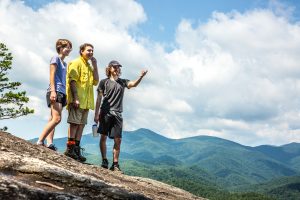 June 26 – July 1, 2022
$1,600
Price includes lodging, meals, all course materials, activities, and excursions
Students reside in campus residence halls and dine in campus dining hall
Due to the continued effects of COVID-19, we are maintaining a flexible refund policy.  There is a full refund available minus a $50 administrative processing fee
Enrollment is open until spaces are filled
Students that register for two back-to-back Pre-College programs, have the option to also register for an optional stayover weekend in-between programs for an additional $350.  The stayover weekend is all-inclusive of housing, meals and activities in and around Asheville
---

Aquatic Ecology: Intro to Southern Appalachian stream ecology, basic species ecology and identification, human impacts on aquatic ecosystems, field sampling and processing
Adventure/Outdoor Skills: Leave-no-trace ethics and outdoor stewardship, basic hydrology, watercraft travel/basic paddling skills, hiking and group management, river stewardship
Social topics: Building positive community, developing a sense of place/place attachment, reflecting personally on their role in and interactions with the natural world

Morning

8 a.m. – Breakfast
9 a.m. – Intro to Southern Appalachian stream ecology session
10:30 a.m. – Intro to field sampling techniques
12:00 p.m. – Lunch

Afternoon

1 p.m. – Travel to activity site
1:30 p.m. – Introduction to paddling skills session, "Try It" event with canoes, stand up paddleboards and kayaks; on-water games and activities
5 p.m. – Travel back to campus

Evening

5:30 p.m. – Dinner
6:30 p.m. – Activities / recreation / free time
Options include: swimming, beach volleyball, Asheville Tourists game, observatory, game night, movie
11 p.m. – Lights out

Fish and invertebrate sample collection and processing
Site visits (streams, waterfalls, service sites, etc.)
Adventure activities including: basic flatwater paddling, moving water tandem canoeing, swimming hole snorkeling/swimming, waterfall hiking/exploring, whitewater rafting
---


Dr. David Gillette
Dr. Gillette has been teaching aquatic ecology and environmental science at UNC Asheville since 2008. He earned a PhD in ecology and evolutionary biology from the University of Oklahoma where he studied the importance of connections between terrestrial and aquatic habitats to stream fishes. Before coming to UNCA, Dr. Gillette taught for a year at Austin College in Texas. At UNCA, Dr. Gillette and his students are investigating the impacts of human activities on aquatic ecosystems in western North Carolina, and the effectiveness of practices designed to remediate those impacts. During the 2015/2016 academic year, Dr. Gillette traveled to Nepal with support from the Fulbright Foundation, World Wildlife Fund and National Geographic Society to investigate effects of environmental change on Himalayan fishes.
---
Contact Us
Questions? Please contact us at camps@unca.edu.