Hone your literary skills through workshops with experienced local authors and poets. Generate new pieces, revise works-in-progress and critique works of others in a collaborative workshop setting.
Developing Voice:  Fiction is woven together from a multitude of voices: omniscient authors, first person narrators, each individual character all have distinctive manners and (hopefully) recognizable traits. What does it mean to have a "voice"? How do you distinguish between voices and maintain a cohesive style? This course will address these issues, looking at authorial and character voice as an integral part of storytelling.
The Poet's Toolbox:  We'll explore a variety of poetic techniques and forms in order to expand our writing toolboxes and to hone our ability to use the tools we already have. Building things with words is difficult, but it's also a lot of fun. We'll balance discipline and play, rules and exploration, hard work and the gratification of sharing what we've made.




Developing Voice
Storytelling
Poetry

Participating in peer workshopping sessions to give and receive feedback on work-in-progress
Students will be encouraged to participate in an end-of-week reading for an audience of family and friends

Morning

8:00 a.m. – Breakfast
9:00 a.m. – Developing Voice
12 p.m. – Lunch & free time

Afternoon

1:00 p.m. – Wordbuilding 101

Evening

5:00 p.m. – Dinner
6:30 p.m. – Activities / recreation / free time
Options could include: beach volleyball, Asheville Tourists game, observatory, game night, movie
11 p.m. – Lights out
---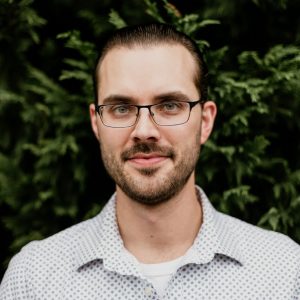 Luke Hankins
Luke Hankins is the author of two full-length poetry collections, Radiant Obstacles and Weak Devotions, as well as a poetry chapbook, Testament (Texas Review Press, 2023). He is also the author of a collection of essays, The Work of Creation, and a volume of translations from the French of Stella Vinitchi Radulescu, A Cry in the Snow & Other Poems. The founder and editor of Orison Books and a longtime editorial staff member at Asheville Poetry Review, Hankins lives in Asheville with a tiny dog named Fox.
Dr. Jamieson Ridenhour
Jamieson Ridenhour is the writer and producer of the popular audio drama Palimpsest, the author of the werewolf murder-mystery Barking Mad (Typecast, 2011) and writer and director of the award-winning short horror films Cornerboys and The House of the Yaga. His ghost play Grave Lullaby was a finalist for the Kennedy Center's David Cohen Playwriting award in 2012. Jamie's short fiction and poetry has appeared in Strange Horizons, Andromeda Spaceways Magazine, TheNewerYork, Across the Margins, Mirror Dance, and Architrave, among others, and has been podcast on Pseudopod, Cast of Wonders, and Radio Unbound. His newest play, Bloodbath: Victoria's Secret, premiered in October of 2021. He has taught writing for over twenty years, currently at Warren Wilson College
---

June 18-23, 2023
$1,350
Scholarships are available through Great Smokies Writing Program (Click here for more information)
Price includes lodging, meals, all course materials, activities, and excursions
A $500 deposit is due upon registration with remaining balance due by May 1, 2023. Click here to see our

cancellation

policy
Students reside in campus residence hall and dine in campus dining hall
Enrollment is open until spaces are filled
Registration is through the Camp Doc platform.  Detailed registration instructions can be found here.
---
Contact Us
Questions? Please contact us at camps@unca.edu.