Interactively explore the wonders of our atmosphere and experience the joys of a career in meteorology. Learn the fundamental principles of atmospheric science through hands-on demonstrations and study the relationship between pressure, temperature, and elevation during field trips in the mountains. Build your own research-quality weather station. Visit federal and state government agencies, and permanent weather stations, and a local media outlet to learn about careers in professional meteorology. Become a broadcast meteorologist and present your forecast in a real television studio.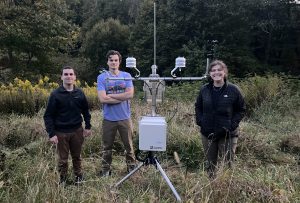 ---

Field trips to the National Centers for Environmental Information and the WLOS ABC 13 broadcast studio.
Television studio tour, forecast, and demo tape recording in Ramsey Library
Built a research-quality weather station on a 6-foot portable tripod
Tour the UNCA NC ECONet weather station
Travel to Mt. Mitchell with portable Kestrel weather meters, GPS receivers, and balloons for hands-on demonstrations and data analysis
Small, hands-on experiments to illustrate meteorological principles such as air density, the fluid nature of a gas, the weight of the atmosphere, and more

Construction of an actual research-quality weather station

Tours of local entities that hire professional meteorologists

Broadcast television studio work

Trip to Mt. Mitchell to illustrate various concepts

Tours of established weather stations
Morning

8 a.m. – Breakfast
9 a.m. – Build weather station
12 p.m. – Lunch & free time

Afternoon

1 p.m. – Study the relationship between pressure, temperature, and elevation

Evening

5 p.m. – Dinner
6:30 p.m. – Activities / recreation / free time
Options could include: beach volleyball, Asheville Tourists game, observatory, game night, movie
11 p.m. – Lights out
---
---

June 25 – June 30, 2023

$1,550.00

Price includes lodging, meals, all course materials, activities, and excursions
A $500 deposit is due upon registration with remaining balance due by May 1, 2023. Click here to see our

cancellation

policy
Students reside in campus residence hall and dine in campus dining hall
Enrollment is open until spaces are filled
Registration is through the Camp Doc platform.  Detailed registration instructions can be found here.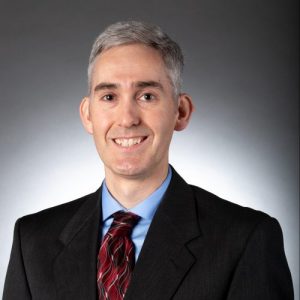 Dr. Christopher Godfrey
Dr. Christopher Godfrey is a professor of atmospheric sciences and the chair of the Department of Atmospheric Sciences. He arrived at UNC Asheville in 2007 after receiving a Ph.D. in meteorology from the University of Oklahoma, specializing in land surface modeling. He teaches many courses at UNC Asheville on topics related to severe weather, programming, computing techniques, atmospheric physics, thermodynamics, statistics, instrumentation, and forecasting. Dr. Godfrey's research interests include tornadoes—especially debris and damage propagation and the interaction of tornadoes with terrain, transportation weather, societal impacts and weather communication, meteorological observations, and land-surface modeling. Outside of academic pursuits, Dr. Godfrey enjoys trail running in the mountains and playing the piano, alto saxophone, flute, and electronic woodwind.
---
Dr. Elaine Godfrey
Dr. Elaine Godfrey moved to the Asheville area in 2007 and finished her Ph.D. in meteorology from the University of Oklahoma while working in the Climate Monitoring Branch of what was then known as the National Climatic Data Center (now National Centers for Environmental Information). She spent three years as a research coordinator at UNC Charlotte for an NSF-sponsored project which studied the impacts of a mentoring program on the retention of female undergraduates in the geosciences. Dr. Godfrey served for several years on the AMS Applied Climatology Committee. She and her husband, Dr. Christopher Godfrey, developed and periodically teach the Severe Weather Field Experience course together. In addition to teaching other courses in the Department of Atmospheric Sciences, Dr. Godfrey keeps busy by homeschooling their three daughters, crafting, playing the piano and hammered dulcimer, and raising chickens.
Contact Us
Questions? Please contact us at camps@unca.edu.