Learn about the geology of the Southern Appalachians while hiking and rafting to scenic landmarks. Practice field-based learning while rock climbing and rappelling on the beautiful granite bodies of western North Carolina. Experience the geology of caving systems while spelunking. Enjoy time outdoors, build lifelong friendships, participate in adventure experiences, and see what it is like to be a geologist for a week!



---

Geologic Background: Geologic history of the Southern Appalachians, landslides, earthquakes, cave systems
Field Skills: Basic rock and mineral identification, navigation and maps, making field observations to understand the geologic history
Adventure/Outdoor Skills: Leave-no-trace ethics and outdoor stewardship, hiking and group management, rock climbing and rappelling skills, spelunking skills
Social topics: Building positive community, developing a sense of place/place attachment, reflecting personally on their role in and interactions with the natural world

Hiking
Rock climbing and rappelling
Spelunking skills.
Basic rock and mineral identification
Navigation and map reading
Field observations to understand the geologic history
Morning

8 a.m. – Breakfast
9 a.m. – Rock and mineral identification
12 p.m. – Lunch & free time

Afternoon

1 p.m. – Rock climbing and rappelling

Evening

5 p.m. – Dinner
6:30 p.m. – Activities / recreation / free time
Options could include: beach volleyball, Asheville Tourists game, observatory, game night, movie
11 p.m. – Lights out
---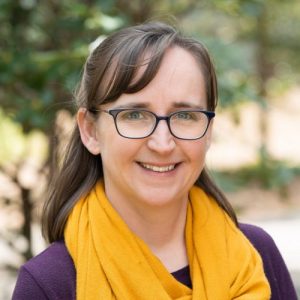 Dr. Jackie Langille
Dr. Jackie Langille teaches courses in Structural and Field Geology, Geographic Information Systems [GIS], Physical Geology, Environmental Geology, and Field Geology. She is particularly interested in deformation at depth in the Earth's crust and at the surface, as this information is critical for understanding regional tectonics. She incorporates geologic mapping of bedrock and structures, geomorphic field mapping and modeling, GIS, kinematic analysis, microstructural analysis, metamorphic petrology, and geochronology to evaluate the development and evolution of fault systems and shear zones in the Himalaya, the Appalachians, and the Walker Lane in Nevada.
---

June 18 – June 23, 2023 – PROGRAM FILLED – REGISTER FOR THE WAITLIST

$1,750.00

Price includes lodging, meals, all course materials, activities, and excursions
A $500 deposit is due upon registration with remaining balance due by May 1, 2023. Click here to see our 

cancellation

 policy
Students reside in campus residence hall and dine in campus dining hall
Enrollment is open until spaces are filled
Registration is through the Camp Doc platform.  Detailed registration instructions can be found here.
---
Contact Us
Questions? Please contact us at camps@unca.edu.